The business case: Mental health and the employee experience
Wellbeing doesn't stop at physical health. Likewise, the employee experience doesn't stop at the physical workplace. How employers support and care for employees' mental health deeply impacts how employees feel about the workplace.
Most businesses are doing their best to take care of their teams. Massive efforts have been undertaken to improve employee wellbeing. But are they enough?
Download this report to learn: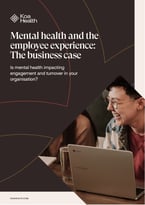 Why mental health should be considered a business risk
How it may be impacting turnover and engagement in your organisation
How to create an employee experience that supports mental health
Ready to build a culture of mental health?