Whitepaper: Poor Utilisation of Mental Health Resources - Why it's harmful to business and what you can do about it
Did you know that while 97% of large businesses provide mental health resources for their employees, less than 10% of employees are using them? Managing and supporting mental health at work is vitally important. But while most organisations offer EAPs, uptake is dangerously low.
It seems there are some barriers preventing people from getting beneficial and needed support in a timely way. And when employees don't receive the support they need, businesses suffer. Poor mental wellbeing is a factor in innumerable problems companies face, among them absenteeism, presenteeism, and poor physical health.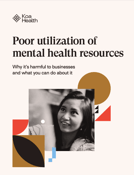 Download this report to learn:
The root cause for poor utilisation
The cost you pay when your mental health resources go underutilised
A 6-step guide on how to improve the utilisation of mental health resources
Ready to build a culture of mental health?