Are digital mental health solutions worth the investment?
Download The KPIs of Mental Health report
Mental health issues are now the norm among today's workforce. And when your employees are struggling, business suffers, too.
From improving productivity to reducing labour turnover, absenteeism, presenteeism, and other mental-health-related costs, research has shown up to a 6:1 return on investment on mental health issues at work.
Download The KPIs of Mental Health resource to learn: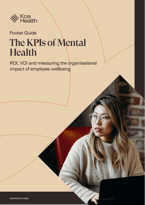 The important role employers play in combatting the growing mental health crisis
Why organisations must adopt a culture of mental wellbeing
Which metrics can help you evaluate your mental health initiatives
Ready to build a culture of mental health?