Key benefits and the case for investment : Helping your employees overcome barriers to mental wellness:
Mental health has been deeply impacted by the pandemic. Many of the mental health and wellbeing issues that began during a very intense and isolating time have the potential to become residual, impacting people's overall mental health for months (or even years).
Mental wellness must be addressed, and the sooner the better—poor mental health cost UK companies £43 billion last year and is predicted to cost the global economy $16 trillion by 2030.
Organisations are working hard to take care of their teams and have undertaken large-scale initiatives to improve employee wellbeing. But significant barriers to mental wellness continue to keep employees from accessing the support they need. The question remains: what can organisations do to help?
Download this report to learn: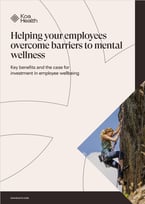 The key benefits of investing in employee wellbeing
Why mental health and wellbeing are a top priority for employees
How to help employees access the care they need for mental wellness
Ready to build a culture of mental health?